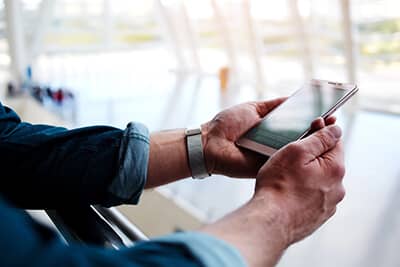 At Portland Website Company we have been venturing into new digital marketing territories and have recently completed multiple trials on the geofencing concept.
Geofencing really is the new horizon in mobile phone-focused marketing and offers some tremendous marketing value versus that of old, traditional media types. We have completed various Maine-based geofencing projects for several companies looking to capture their clients in locations that make sense.
Geofencing targets users based on specific geographical areas, targeting their mobile devices, which in turn follows the user to their desktop/tablet reinforcing the message for up to 90 days (we can change the amount of time the pixel follows the user, as well as cap the number of times a day they can see it).
This type of advertising typically uses display banner/skyscraper ads or preroll videos. Geofencing uses the latitude and longitude of users who opt-in on their phones using location-based services. Once they reach the "fence" we've defined, they are served an ad on their phone if they use it or the ad will follow them wherever they go online.
What should I know about geofencing?
Listed below are some elements that will be useful in understanding geofencing.
What is a geofence?
A: A virtual perimeter targeting customers in physical locations
What are the benefits of geofencing?
A: Geofencing can increase sales but it is also a very inexpensive brand awareness tool that can remind customers of your brand and create top of mind awareness. Geofencing also plays a role in ZMOT or "zero moments of truth," which is when a customer begins the research process. If you are not able to be found during this research you are simply not an option.
When should I use geofencing?
A: Geofencing can be used as a straight-up branding campaign but also with promotions and incentives. This is a great tool when you have that amazing offer and want to get the word out in a big way.
What is conquesting as it pertains to Geofencing?
Conquesting is the practice of attracting customers away from competitors using location-based ads. These ads are served to customers who are visiting — or have visited — a rival business or competitor. Imagine serving a McDonald's ad while someone was walking into Burger King. We will work with our customers to create the best geofencing plan and not always suggest that conquesting is deployed.