Portlanders, it's officially summer! The sun is shining, tourists are arriving, and Portland is the place to be this season. We only get a few precious months of summer, so it's time to also think about how to beat the heat in Portland. Ahead, you'll find our favorite bars, ice cream shops, and things to do in Portland that will help you stay cool in the middle of a heatwave. You'll thank us later!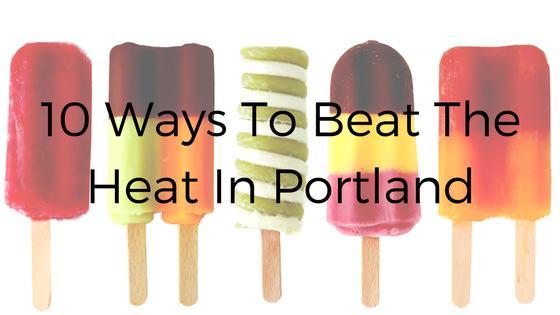 Drinks:
Rhum: 98 Cross Street North, Portland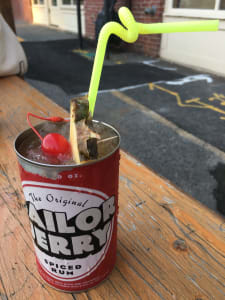 If you can't escape to a tropical paradise, the next place to be is at Rhum. On a sweltering summer day, it's easy to beat the heat if you've got a tiki drink in hand. Go for a classic, like their pina colada or a Painkiller, which go down smooth and leave you feeling like you've entered your happy place. Get a little spicy with the Thatched Roof, which is served in a coconut. Bonus points if you sit outside on their new patio and watch the passerby walk by, jealous of your genius plan for staying cool.
The Porthole: Custom House Wharf, Portland
Drinking outside in Portland means there has to be a stop at The Porthole, because it's just about the closest to the water that you can get. Whether you're indulging for brunch or just a quick drink for happy hour, The Porthole is a dog friendly way to beat the heat in Portland. Yes, if you're a dog lover, there will be dogs on the deck, and they will be adorable. Grab a beer, enjoy some people watching, and soak up the summer vibes.
Bayside Bowl's rooftop bar: 58 Alder Street, Portland
The newest hot spot in Portland is up a little ways, because it's so far, the only rooftop bar in town. On a hot summer night, the rooftop bar at Bayside Bowl will be the perfect place for a drink, and maybe a bite from their Airstream taco truck. Order a margarita or some sangria, and find a spot to look over Portland. If there's a slight breeze, you'll be the first to feel it, while sipping an adult beverage.
Ice Cream:
Beals: 12 Moulton Street, Old Port 
In the middle of a good old-fashioned heat wave, Beals will keep you nice and cool. Homemade ice cream just tastes so much better when you're hot and sweaty, and it's one of the tastiest ways to cool down and beat the heat at the same time. For those that are lactose intolerant, Beals has the best mint chocolate chip frozen yogurt that you'll find. Tastes like ice cream, summer, and America. If you like ice cream, people rave about their ginger flavored ice cream, as well as their M & M ice cream. Go try Beals and tell us what your favorite is!
Mt. Desert Island Ice Cream: 51 Exchange Street, Portland
The artisan ice cream experience in Portland can be found at Mt. Desert Island Ice Cream, a local favorite for small batch ice cream. Think one of a kind flavors like Bay of Figs, Spicy Chai, and Vietnamese Coffee. Each batch of ice cream created is 5 gallons or less, so you never really know what flavors to expect when you stop by their Portland location. MDI also makes homemade sorbets, like orange prosecco, or grapefruit hibiscus, which are lightly refreshing and a fruity way to cool off.
Gorgeous Gelato: 434 Fore Street, Portland 
Yes, Gorgeous Gelato doesn't technically count as ice cream, but it's another good excuse to cool off with a sweet treat. Gorgeous makes authentic Italian gelato, because the owners are from Italy and brought their original recipe with them. This means you'll find delicious flavors like stracciatella, tiramisu, dark chocolate and coconut, and pistachio. This is the closest you're going to come to Italian gelato, unless you go to Italy! The flavors are intense, but smooth as can be, making this a must stop spot in Portland. If you can't make it to their flagship store downtown, they recently opened a kiosk closer by the water!
Activities:
A Booze Cruise with Casablanca Lines
One of the best ways to beat the heat in Portland is to get out on the water. There's tons to do, like surfing, paddle boarding, or just swimming in the freezing ocean. But if you want to take things to the next level, get on a boat. And not just any boat, but a Casablanca Lines booze cruise. Have a favorite Portland band? Hello Newman, Kilcollins, and Pardon Me Doug are all local bands that have booze cruises available. We can't think of anything better than enjoying live music, while cooling off on the ocean with an ice cold drink in hand.
East End Beach: Eastern Promenade, Portland
If it's too hot to function outside, one great local spot is the East End beach, part of the Eastern Promenade. If the beach part is too crowded, the Eastern Prom is a beautiful spot to hang out for a picnic. If you want to reach penultimate Mainer, make sure to stock up on local Maine goodies like hand picked strawberries, hand pies from bakeries like Ten Ten Pie and Tin Pan Bakery, and a refreshing local soda like Green Bee or Eli's Root Beer. If you're looking for a sweet treat, you may find Urban Sugar Donuts hanging around the Prom, with their adorably delicious mini donuts! After you're done snacking, take a moment to dip your feet in the water and just take a minute. This is what summer is all about: a glorious way to beat the heat in Portland.
Wine Wise Wine Sail
If you're looking for a little education to go with your wine drinking, one glorious way to beat the heat in Portland (by sea) is to snag a seat on a Wine Wise Sail. Wine Wise is owned and operated by Portland's own sommelier, Erica Archer. Wine Wise sails are a stunning way to take in the beauty of Maine's coastline, as well as enjoy learning more about wines and enjoying delectable food pairings.  If this sounds like an ideal way to spend a Saturday or Sunday this morning, you can purchase tickets here. Be warned: these events sell out fast!
Portland Public Library: 5 Monument Square, Portland
When it's really hot, and being outside sounds like a nightmare, one of the best ways to beat the heat in Portland is to go to the Portland Public Library. Fully air conditioned and full of spots to read, the library is an oasis in the middle of a heat wave. There's an extensive selection of books to choose from, like non-fiction, fiction, and children's books. Chances are, if you love to read, you'll be able to find something to enjoy. The library also offers book clubs and activities, which gives you plenty of options to choose from.
There you have it: these are some classic Portland spots and activities to beat the heat! Think we missed your favorite spot to ride out a heat wave? Let us know in the comments below!
---