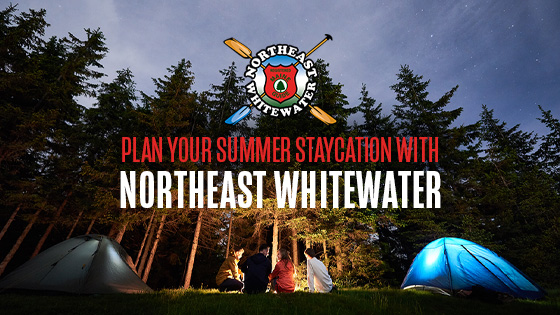 Businesses and people alike have been struggling to get through what's considered "the new normal". But what about your perfect Maine summer?
There's a lot to love about living in Maine, after all, there's a reason we're called The Way Life Should Be. With many future trips canceled, you might be wondering what you're going to do for fun this summer.
Why not plan a summer staycation with Northeast Whitewater? Keep reading to learn more about Northeast Whitewater and the many things they have to offer guests!
Safely socially distance with Northeast Whitewater
Getting sick of looking at the same four walls of your house? A summer staycation is a perfect solution!
Northeast Whitewater has put new COVID-19 cleaning protocols into place to make sure that all guests feel safe. Even before COVID-19, they had exceptional cleaning procedures in place, including the sanitization of all equipment after each use.
New COVID-19 protections include:
Installing vehicle barriers in their 12 person passenger vans with microphone sound
Masks are required in the gift shop and camp store, as well as in trip vehicles
Contactless check-in and check-outs available per guest request
A new plexiglass window has been added at the retail terminal for comfortable and safe check-outs for guests that prefer to shop in the store
The new cleaning schedule in the bathhouse facility modifies their cleaning schedule to clean after each tour group departs on trips
You can rest assured that during your staycation with Northeast Whitewater, not only will your family be safe, but you'll also have fun! Whether that includes a moose watching tour (their #1 activity), an Ice Cave Excursion, or just renting a canoe to explore Moosehead Lake, you won't be bored!
Why not stay in a yurt for a camping experience minus the gear?
If you love the idea of camping but hate the gear that you have to pack and bring with you, you may want to consider staying in a yurt. Northeast Whitewater is the only rafting company and guide service with yurts on site!
This is the perfect way to enjoy the great outdoors, minus the heavy gear bringing you down, of course. Northeast Whitewater's yurts are conveniently tucked back into the woods.
Each yurt even has its own fire ring and picnic table away from other sites. This is one of the easiest ways to social distance without having to be stuck at home!
See a moose during a moose watching tour
There's almost nothing more Maine than seeing a moose! There's a reason this is Northeast Whitewater's #1 activity that they offer guests.
The moose watching tour is 3.5-4 hours and lead by their registered Maine guide. Besides watching moose, there's a lot more happening on this tour.
It's informative and educational for kids but it's also a great activity for couples, bird watchers, lovers of wildlife, and even photographers! Can you imagine how amazing it is to shoot a picture of a moose, up close and personal?
That experience could be yours! You can experience the moose watching tour by land or canoe, which are two great ways for guests to see moose in their natural habitat.
Whitewater rafting offered July 1st for adrenaline junkies
Because of COVID-19, the typical whitewater rafting season is currently delayed until July 1st. This normally starts as early as May.
The good news is that Northeast Whitewater is working with its whitewater outfitters and state Inland Fisheries and Wildlife with a proactive approach to getting the rafting season started in June. They are optimistic that they will be able to start the whitewater rafting season in June rather than July thanks to their dedication they have been putting into doing what's right to keep guests safe at all times.
In the meantime, when whitewater rafting is available, they offer mild to wild whitewater experiences at their Moosehead Lake location. Whitewater rafting isn't only for adrenaline junkies though!
Families can comfortably whitewater raft on more mild waters, while adventure enthusiasts can take on wilder waters. Northeast Whitewater has world-class whitewater rivers to the east and the west of their Moosehead Lake location, which is why families and adventure seekers alike can go out on the rivers.
Ready to make your summer staycation one you'll never forget? Book online with Northeast Whitewater in Moosehead Lake, ME now!
---