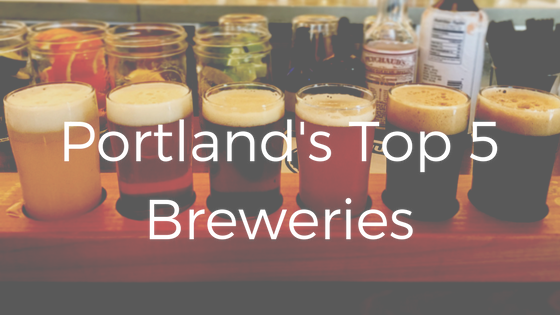 Portland is known for a lot of things: lobster, lobster rolls, potatoes, and blueberries, to name just a few. But in the last few years, it's become more and more about the craft brewery scene. Maine now has breweries in every county but 1…that's quite the accomplishment! So with so many craft breweries to choose from, where should you go? We've done the (hard) work for you: these are our 5 favorite breweries in Portland (with 1 that's technically in South Portland, but it's right over the bridge). Keep reading to learn where you need to be drinking beer this summer!
Allagash: 50 Industrial Way
Any beer list worth its hops will include Allagash somewhere on it. If you're not familiar with this brewery, Allagash is best known for their light and easy to drink, Allagash White. Allagash White is the perfect summer beer, described as a "Belgian-syle wheat beer" and a special blend of coriander and orange peel. Though Allagash White is a Maine classic, its popularity spans the entire country. It's not uncommon to find Allagash White on tap in places like Chicago or Los Angeles, but in Portland, Allagash White is everywhere. Besides brewing White, other popular beers by Allagash include the Hoppy Table Beer, Saison, Dubbel, and Tripel, though there are always limited release beers available too, if you can find them. If you're looking to get the true Allagash experience, it's time to go to the brewery itself in Portland. Take a tour or enjoy the free flights, especially on a warm summer day. Industrial Way is home to many local breweries, and is a popular spot for food trucks to hang out as well.
Shipyard: 86 Newbury Street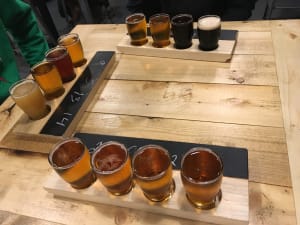 There's almost a cult following behind Shipyard's Pumpkinhead beer, which is only available a few months out of the year. If you're not familiar with Shipyard, some of their beers might sound a little…odd. There's the Shipyard classics like Melonhead, Pumpkinhead, and Old Thumper and then there's the smashed ones like Smashed Pumpkin and Smashed Blueberry. Shipyard also owns Sea Dog, which makes its own iconic beers like Sunfish and Apricot. No matter what kind of beer you like, there's something for everyone at Shipyard. And if just drinking a Shipyard isn't enough, it's time to stop by their Portland brewery and tasting room. Come for a flight of beer, or enjoy a tour of the brewery to find out how the magic is made!
Bissell Brothers: 4 Thompson's Point #108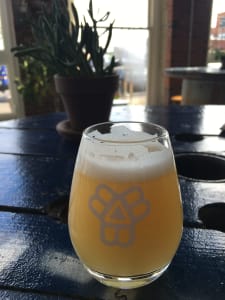 Since Bissell Brothers made their move to Thompson's Point last summer, things have been booming. On weekends, it's pretty normal to see a line of people out the door, either waiting to get in, or waiting for the release of cans of their beer. A big part of the reason that Thompson's Point is so hot right now is because of Bissell's timely move. With their giant tasting room, and an ultra convenient takeout window to Big J's Chicken Shack, there's a lot to love about Bissell. But the thing that people keep coming back for? The beer, of course. The Substance Ale, which is their flagship beer, is the most popular by far, and is widely considered to be one of the best beers in Portland. Substance is an IPA that packs taste, but doesn't feel heavy, and is satisfying til the last drop. Other notable beers include the seasonal Baby Genius, only available from April-October, Lux, and the Seed, which is only available once a year and features berry flavors of strawberry and raspberry, with hops from around the world. One of the best things about Bissell Brothers is its Thompson's Point location, making it a perfect stop on expeditions to breweries around Portland.
Oxbow: 49 Washington Ave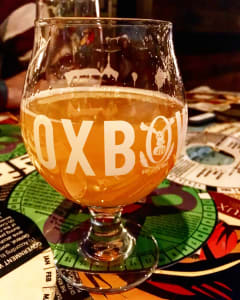 There's a big reason that Portland's East Bayside has lovingly been renamed "Yeast" Bayside, and Oxbow definitely has something to do with it. Serving up Belgian-style ales, but with a funky twist, Oxbow is a brewery not to miss in Portland! Another brewery with a killer tasting room, Oxbow serves up their beers in a cozy atmosphere. Many nights include live music, making it a great spot to relax and sip on their flagship brew, the Farmhouse Pale Ale. It's a Saison that's brewed with American hops that goes down easy, drink after drink. If you want to keep the party going, Oxbow is also conveniently near other breweries such as Lone Pine Brewing Company and Rising Tide Brewing Company.
Foulmouthed Brewing: 15 Ocean St, South Portland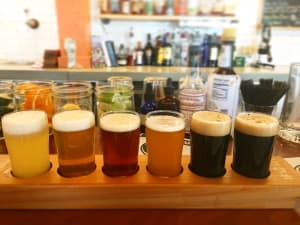 Okay, so this last one isn't *technically* in Portland, but is only 5 minutes away in South Portland. Foulmouthed Brewing is set up a little bit different than the other breweries that are on this list, because it's technically a brewpub. Not only is there great beer to try like their Kaizen Saison, or their After Dinner Stout, but there's also food! If you're a French fry lover, trying their Garlic fries with your choice of dipping sauce is basically pure heaven, no doubt about it. If you're not familiar with Foulmouthed, it's a good excuse to come try a flight and check them out!
These may be the five best breweries in Portland, but there's so many more to go and try! Comment below with your favorites, and let us know who can't be missed!
---