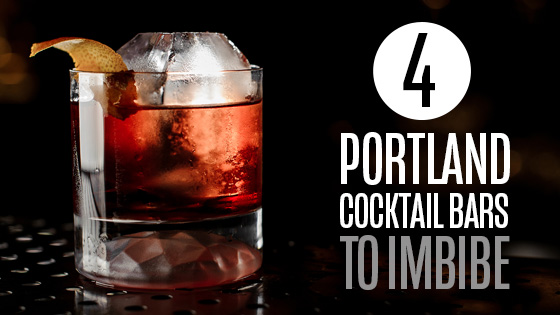 The holidays are finally over and it's 2019. We don't know about you, but we're already thinking about the best spots for happy hour and cocktails. Cocktails, you say? How convenient that we've rounded up 4 Portland cocktail bars to imbibe for you! 
1. Gross Confection Bar: 57 Exchange Street, Portland
Gross Confection Bar might be the most highly anticipated opening in Portland in the last 5 years. Seriously! Everyone and we mean everyone, was trying to get in on opening night. Luckily, we were there and we sampled a few cocktails for you. For this cocktail bar, we recommend a reservation. To sit at the bar is no small feat, let alone one of their tables.
If you do manage to snag a seat, make sure you're drinking the Violette Femme or the New Moves cocktails. The Violette Femme is, of course, a play on words for the popular band, and is a light and refreshing cocktail with tom cat gin, byrrh, creme de violette, and prosecco.
It's a little floral and perfect for when the weather gets warmer. Or when it's freezing outside all winter and you're trying to convince yourself you're warm. Yeah, it's Gross.
2. Blyth & Burrows: 26 Exchange Street, Portland
Though Blyth hasn't been on the scene for that long, somehow, it has become the place to get a cocktail. If you're planning a cocktail crawl, which let's face it, we've all done, you can stroll from Gross to Blyth easily.
At Blyth & Burrows, there's more than one bar to choose from! And if that's not enough, the cocktails are gorgeous. Like extremely Instagramable, if you're into that kind of thing. Do it for the gram, right?
The cocktails are always changing, but if you get the chance, their holiday cocktails are out right now! Santa's Milk & Cookies is pretty and comes with two sugar cookies in case you're hungry. Or, if you daydream about living in It's A Wonderful Life, order the Zuzu's Petals cocktail for a little bubbly fun!
3. The Independent Ice Co. : 52 Wharf Street, Portland
Another relative newcomer, The Independent Ice Co. is serving up that whiskey cocktail goodness. Yes, whiskey and cocktails can go together. It helps that Independent Ice Co. is using high-quality whiskey that lends flavor and depth to its cocktails.
If you're not big on whiskey, dip your toe in the water by trying the Icebox Bourbon Punch. It's got the kick you need when it's cold outside and you're ready to hunker down until spring, trust us.
Or, we'll let you in on a little secret: Independent Ice Co. also serves prosecco on draft. Even if you're not a whiskey cocktail lover, you can enjoy prosecco on draft. And really, what's not to love about that?
4. Sagamore Hill: 150 Park Street, Portland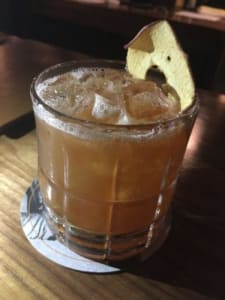 After a brief hiatus, Sagamore Hill is open for business once more. Serving up cocktails with a dash of history, Sagamore Hill is another one of the Portland cocktail bars to visit.
With a name based on Teddy Roosevelt's home, Sagamore Hill is a welcome breath of fresh air. It's not too hipster and not too small. Instead, there are booths that hold twenty (no, really) and plenty of local craft beer on tap from favorites like Allagash, Lone Pine, Mast Landing, and more!
On a cold winter's night, the Mount Vernon cocktail will warm you right up with whiskey, apple brandy, lemon, brown sugar cardamom simple syrup, angostura, and aromatic bitters. Translation? It'll warm you up, inside and out!
This is just scratching the surface of the Portland cocktail bar scene, but let us know in the comments where you imbibe your favorites!
---