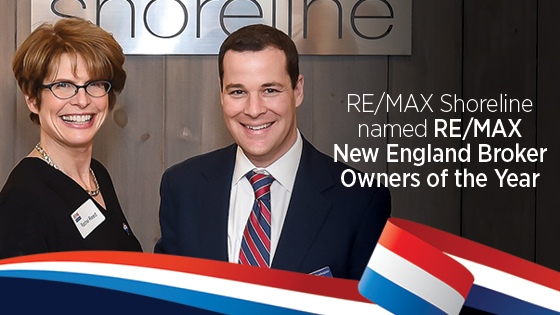 We love seeing our clients succeed and that's why it's so exciting that RE/MAX Shoreline has been named the 2018 RE/MAX New England Broker Owners of the Year! Why is this a big deal? Keep reading to learn more!
RE/MAX Shoreline: real estate with a local touch
Being a real estate broker in the state of Maine is about a lot more than just selling homes. Any broker can tell you that. That's why RE/MAX Shoreline is different. Owned by Derrick Buckspan and Rachel Reed, there is always a local and personal touch with each and every home this agency sells. So what sets them apart?
Derrick and Rachel recruit only the best of the best in the local real estate market to make sure their clients are happy. With three locations in New England, it's easy to work with RE/Max Shoreline. Their headquarters are in our favorite city, Portland, Maine, and their other offices are located in Portsmouth and Falmouth.
70 agents but you would never know it
It's important to build a solid team, which is a testament to your real estate agency. RE/MAX Shoreline has done just that, with 70 local agents available to their clients. What's more: this agency has doubled in size in just three years! The best part about it is you would never know there were 70 agents at RE/MAX Shoreline.
You wouldn't even realize they are part of a global company like RE/MAX. When you're a client of RE/MAX Shoreline, it's like you're the only one in the room that matters. It's all about a local, personal touch with the expertise that you expect from your realtor.
It's about more than just selling homes
Yes, real estate is about selling homes and properties, but RE/MAX Shoreline is about a lot more than just that. Not only do they offer residential, commercial, and vacation property services around Maine and New Hampshire, but they have a strong focus on philanthropy. More specifically, philanthropic outreach.
Why does this matter? In 2018, they raised almost $150,000 for local nonprofits in Maine and New Hampshire! It's easy to say you're making a difference, but it's something completely different to actually do it! RE/MAX Shoreline is supporting the local communities that they serve because they want to. Because it's the right thing to do. And because it's one of the only ways we know we'll have a better tomorrow.
At the end of the day, sometimes it's not about business. Sometimes, it's about looking back on your day and knowing you made a difference. Maybe it's as small as contributing in your local community or supporting local nonprofits.
We think that RE/MAX Shoreline has the right idea! When you work with RE/MAX Shoreline, you are helping your community at the same time. What's not to love about that?
Looking for the perfect real estate agency that's local, close to home, and helping the world around them when buying or selling properties? You probably don't have to look much further, because RE/MAX Shoreline is an agency that you can count on.
---