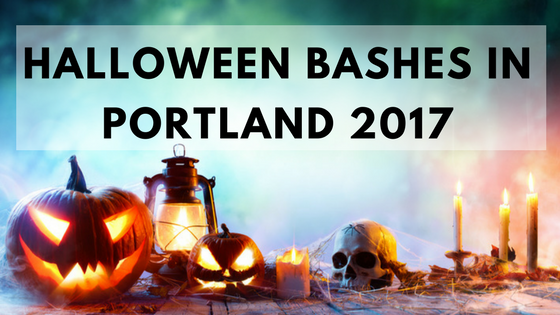 All right, gals and ghouls, everybody's favorite spooky holiday is right around the corner. We're talking about Halloween, of course! Want the inside scoop on Halloween bashes in Portland this year? Keep reading, because there's no good excuse why you shouldn't be dressing up and celebrating!
October 18th- Pumpkin Carving Night: Stroudwater Distillery from 6 pm-8 pm
Start off the season right with Pumpkin carving at everyone's favorite Thompson's Point joint, Stroudwater Distillery. From 6-8 pm, come and carve pumpkins. Bonus points if you wear a costume, because that's half the fun! While carving your pumpkin, make sure to try some of the new cocktails off Stroudwater Distillery's new fall menu. Cost is $20 at the door to cover the cost of pumpkins and the carving kits. For more information, you can check out the event page on Facebook.
October 21st-Portland Ghoulwill Ball 2017: The Portland Club from 7:30 pm-11:00 pm
Get dressed up in your Halloween best and help Goodwill's Workforce Fund when you attend the Ghoulwill Ball! If Halloween is your favorite holiday, now is the time to work it. A total of $700 in costume prizes will be given away, in categories including Judge's Best Overall, People's Choice, Most Creative Use of Goodwill finds, and Group Costumes. The Ghoulwill Ball is being held at The Portland Club by Blake & Eva from the Coast 93.1 Morning Show. Beats will be provided by Motor Booty Affair, and food and drink will be from Black Tie Catering. Think this sounds ghoulishly amazing? Check out the Eventbrite page for tickets!
October 28th-Spirit of Portland Halloween Bash: Portland Expo from 8 pm-12 am
Get your boogie on at the Spirit of Portland Halloween Bash! Taking place at the Portland Expo on October 28th from 8 pm-12 am, it's sure to be a night to remember. Expect tunes from Motor Booty Affair and Hello Newman to help you dance the night away, along with a fully stocked bar for frightful cocktails and ghoulish drinks. Make sure to wear a costume and compete in the costume contest! There's $1,000 in prizes up for grabs for 1st, 2nd, and 3rd place. There are many Halloween bashes in Portland this year, but this is one to attend! $20 at the door, or buy your tickets here.
October 28th-Popsickel Boat Party: Casco Bay Lines from 7 pm-10 pm
Booze cruises aren't just for summer anymore. Hop on the Popsickel Boat Party booze cruise, hosted by Amrit x Collin and get ready for a night of waves, drinks, and awesome costumes, all while on a boat! Get your crew together for tight beats and the Most Desired Costume Dance Party in Portland. After all, the only thing better than a costume party is one on the water. Out of all the Halloween bashes in Portland this year, this is the only one that takes you out on the water to dance the night away. Tickets are $25 each and can be bought on Eventbrite here.
October 28th-Equality Maine Great Pumpkin Ball: Masonic Temple from 8 pm-1 am
October 28th is the night to celebrate Halloween in Portland, obviously. Add another event to your Halloween bashes in Portland wishlist with the Equality Maine Great Pumpkin Ball! Taking place at the beautiful Masonic Temple, this year features special guest performer Vivacious from Season 6 of RuPaul's Drag Race, along with 2 DJs, and a costume contest with over $1000 in prizes that can be won! Costume Categories include The Le Cirque Theme Award, Best Overall, Fright Factor, Triple F: Flashy, Fabulous and Fierce, Best Group, and Best Duo. There will also be a photo booth, tarot card reader, and other fun activities! Tickets can be purchased online here!
There are tons of Halloween bashes in Portland to explore, but we think these are the ones that people will be talking about for years to come! Now, it's time to dive head first into the spooky season.
---