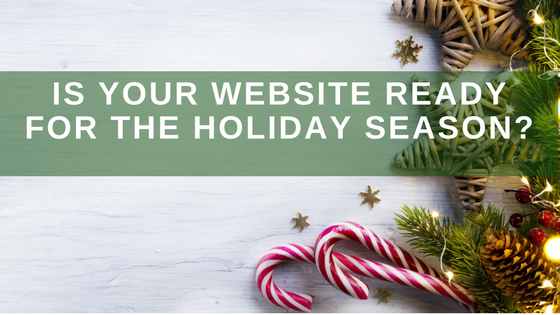 We know, you're probably still thinking about what you're doing for Halloween, and the holidays are the furthest thing from your mind right now. But the holiday season kicks off in full next month, and there's a lot to do if you want to be properly prepared. Whether you're a brick and mortar store on the waterfront in Portland, or you're an e-commerce company just starting out, your website and marketing strategy need to be ready for the holiday season. Check out our tips and tricks below to make this your business's best holiday season yet!
1. Add new products
If you have an e-commerce store housed on a platform like Shopify or Big Commerce, then you already know the importance of having a varied amount of sku's available on your site. Around the holiday season, adding new products is a must! But before you do that, you should do some planning. Are there products that your customers have been asking for? Now is the time to stock them, and refresh your inventory. Products that you need may take an extended period of time to order, so it's always a smart idea to order in advance. Having difficulty finding new products to purchase? Use your Google analytics to your advantage, and take a look at what people have been searching for when they are landing on your website. Although some of the keywords are not provided by Google, you can often still find a few. Looking at traffic from the past year is valuable information, and can give you a better understanding of what people are looking to get out of your website.
2. Schedule out your editorial calendar in advance
The whole point of an editorial calendar is to get organized, and stay organized. We all know that the holiday season can be hectic, to say the least, so automate your social media needs a little bit. Pick a schedule, and stick to it. Posting once a week? Get at least a month ahead on your posting for all platforms, so it's one less thing to think about. If you want to automate your life even more, consider tools like Sprout Social, Buffer, and CoSchedule. These tools allow you to schedule out your social media posts on multiple platforms, and then post them automatically! Automating your social media posting leaves you more time to improve your website, and saves you from a monotonous task too.
3. Add an SSL Certificate to your site
This next tip is probably the most important one on this list. If you don't have one already, you need to add an SSL certificate (Secure Sockets Layer) as soon as possible! Google Chrome recently rolled out a new update, and it is affecting every single website that doesn't have an SSL certificate installed. The error message looks like this: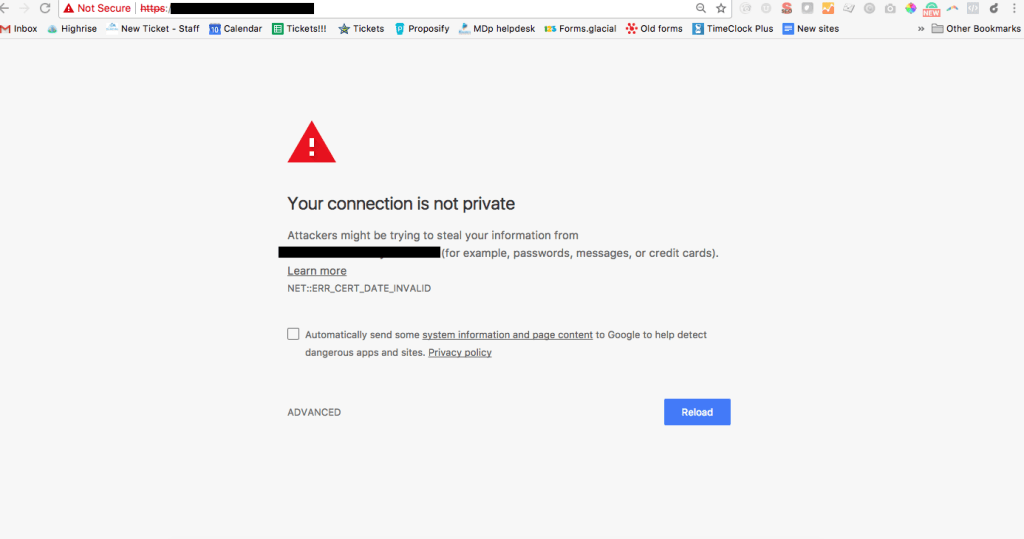 Anyone who is using Google Chrome (which is probably a lot of people, it's the most popular browser) will now see this error message on websites that don't have an SSL certificate installed. An SSL keeps the site secure, and adds https: in front of any URL on the website. It also adds a lock in front of the URL, so anyone who is on the site knows that the site is secure by sight as well. If you're selling anything on your website, an SSL is a must for keeping your customers happy. Need an SSL before Thanksgiving? Make sure to give us a call: we can host your site and install an SSL, all at the same time.
4. Check your site's functionality on mobile
Do yourself a favor, and take a minute to test out how your site responds on your phone. Yes, it may be responsive, but there could be bugs hiding that could discourage customers from actually completing their purchases with you. Go through the main pages, and make sure they load properly. Also make sure to check what the site speed is on mobile. Google provides a super easy way for you to check, and gives you tips on what you can do to improve your mobile site speed score after. Have a mobile checkout? Make sure you try to check out as a guest. Is the check out process simple and easy to complete on mobile? Stepping into the shoes of your customers can give you that extra edge and help you weed out the bugs, before customers are swarming your site for the holiday season.
5. Check your website's analytics to see what performed well last year
If you're not utilizing Google Analytics, you really should be. It may look scary, but the amount of data you can glean from your analytics is fascinating. One of the things analytics can show you is what pages on your site performed best. From there, you can begin to see what your best selling products are, and make adjustments as necessary to your placement of product inventory on your site. You can also optimize your site for keywords that perform the best, which can help you rank higher for the products that you may be selling. Google Analytics can also help you track campaigns that you may be running on social media or paid search. After all, what's the point of advertising if you can't track your ROI?
These tips and more can help you succeed this holiday season! Feeling like you need a hand to steer you in the right direction? We can help you get your website in tip top shape before the holiday season!
---