When it comes to Portland's food scene, we all know it's spectacular. But what makes this foodie town even better is Maine Restaurant Week. It only happens once a year, but for many residents of Portland, it's the best week of the year! So the question everyone always asks is where do I go? After all, Maine Restaurant Week is a special opportunity (or excuse) to go and try new restaurants that you haven't made it to yet. Here are our top 5 picks for Maine Restaurant Week! It's a little bit of new and old favorites, so get hungry as we dive in.
Petite Jacqueline: Breakfast: $14, Lunch: $15, Dinner: $35 for 3 courses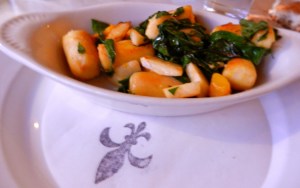 Although Petite Jacqueline has moved from its old State Street location, it doesn't mean that things have changed. Petite Jacqueline is still known for their creative French cuisine that's motivated by the farm to table movement. Expect classic dishes like delicate gnocchi topped with seasoned vegetables, or a tender and succulent roasted chicken. If you really want to get hungry, Petite Jacqueline has always excelled at dessert, and we are sure that this year will be no exception. Think sweet treats like Chocolate Pot de Creme, which is decadently rich and topped with a sprinkle of sea salt. It's the perfect end to a meal at Petite Jacqueline.
Emilitsa: Dinner: $35 for 3 courses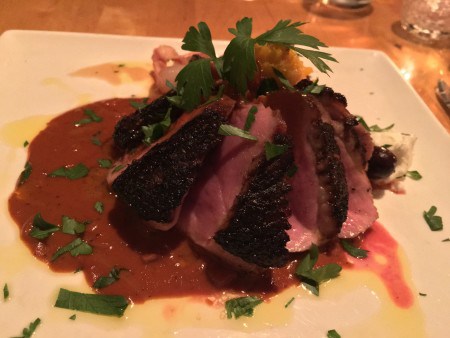 Everyone seems to have heard of Emilitsa, but for whatever reason, not many people have been. Change that by adding them to your Maine Restaurant Week list this year. Lovers of Mediterranean cuisine will be enchanted by their sophisticated take on Greek fare. This year, the menu includes 3 courses, with several options for each. Expect menu items like tzatziki, souvlaki, and baklava that will dance on your palate. Don't forget to pair your meal with one of the many wines available on their wine menu for the true experience.
Back Bay Grill: Dinner: $45 for 3 courses
Back Bay Grill is one of Portland's classic restaurants, and its reputation is extremely well known. Though there is no official restaurant week menu, Back Bay Grill always strives to serve the freshest (and most delicious!) entreés possible. In the middle of winter, hearty and stick to your bones meals will leave you full and wanting more. If you want to get the most for your money, the grilled filet mignon or rack of lamb is the best way to go when they are on the menu. Vegetarian? Not to fear, because there will be vegetarian options during Maine Restaurant Week as well. Having a constantly updated menu means you'll never have the same meal twice and is perfect for foodie adventurers!
Little Giant: Dinner: $35 for 3 courses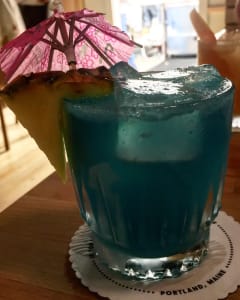 Little Giant is one of the newer hot spots of Portland, located in the West End. Owned by the people behind the endlessly successful Portland Hunt & Alpine Club, Little Giant is a cozy getaway from the hustle and bustle of your work week. It may be chilly outside but you'll be warm with a cocktail in hand at Little Giant during Maine Restaurant Week! We're not going to lie…all of the options for Restaurant Week are making our mouths water, like the Cavatelli with mushroom ragu, pickled peppers, and ricotta cheese or the Duck Confit with braised cabbage, apples, and parsnip pureé. And if you somehow have enough room, dessert is either a citrus galette with mascarpone or a chocolate torte with peanut butter ice cream and pretzels. We don't know about you, but it's all sounding a little too good to be true, so go and check it out for yourself!
Sur Lie: Dinner: $35 for 4 courses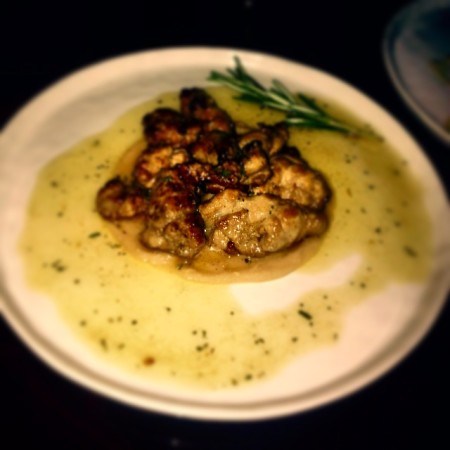 Portland foodies everywhere know that Sur Lie is hot right now, especially since chef Emil Rivera has been asked to cook at the James Beard House on Saturday, March 24th. If you can't make it to New York for the one of a kind event, you can go to Sur Lie during Maine Restaurant Week and sample the brilliant small plates that have put them on the map. Four courses for $35 per person is also a steal, all by itself. There's a lot to chew on, like the Maine Board: Smith's Log pork sausage, Balfour Farm Gouda, house pickles, roasted garlic, and toast. For the second course, we're loving the Chicken Croquettes with pulled chicken, spiced béchamel, and mojo verde. Keep the party going with the Braised Lamb, served with wheat berries, kale, Parmesan, and pickled navy beans. We hope you saved room for dessert because, with offerings like coffee cheesecake, apple cider donuts, and an oatmeal pudding brûlée, we might need to roll you out the door!
Maine Restaurant Week occurs March 1-12th, leaving you plenty of time to try old and new favorites! Where are you planning on going this year? Let us know in the comments!
---