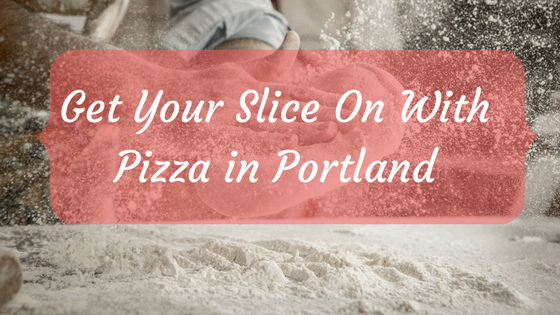 When it comes to eating pizza in Portland, we've got plenty of choices. If you're like us, pizza is your religion and you're not afraid to say it. Tired of the same old same old pizza? We've put together the definitive list of our favorite pizza in Portland. All you have to do now is go forth and try the slices that speak to you!
Portland Pie Company: Old Port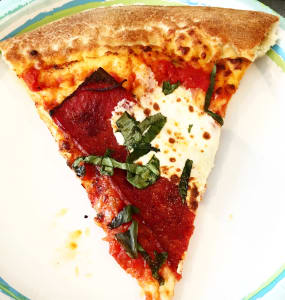 If you're a pizza lover and you haven't made it to one of Portland Pie's locations, you're really missing out. A big reason why pizza lovers love Portland Pie is the variety. Yes, you get some of the more "interesting" pizza pie options here like the Pawtuckaway, which is basically Chicken Parm with meatballs and tons of cheese on a pizza, or the Monhegan steak bomb pizza. In addition to the more creative options, Portland Pie Company kills it in the traditional pizza category. High quality ingredients and customizable dough options like beer dough, garlic, wheat, and basil make this a buildable pizza dream come true!
Slab: Old Port
This might be a more controversial entry for pizza in Portland, but Slab is one of those you love it or hate it sort of pizzas. A slab is a full pound, and is one of the doughier options for pizza in Portland. The pizza is closer to a focaccia than anything else, and is topped with a slightly sweet tomato sauce and melted cheese. If you're looking for a solid pizza option, Slab is great at all times of the day. Whether it's a night out on the town, or you need to recover on a Sunday morning during, Slab has you covered. Not a fan of the traditional 1 pound slab? Try their other pizza offerings, like a brand new option to add pepperoni to your slab, a slice of the spicy meat wedge, or their new thin crust pizza. Not a pizza lover? Their meatball sandwich will change your life, guaranteed.
The Flatbread Company: Old Port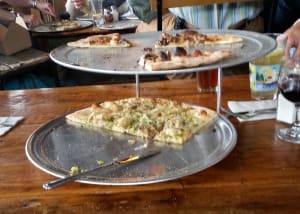 Another extremely popular place for pizza in Portland is The Flatbread Company, located in the heart of the Old Port on the water. Out of all of your pizza options in town, this is probably one of the lightest pizzas you'll find in Portland. Many of the ingredients that you'll find on Flatbread's pizzas are organic, and sourced locally. Popular pizzas to try include the Cheese & Herb, or the Homemade Sausage, both made without sauce. Want to get saucy? Order up their Nitrate-Free Pepperoni & Mushroom flatbread, or their Casco Bay Community Flatbread. With views on views, what more could you want when you're eating pizza downtown?
Otto: Multiple locations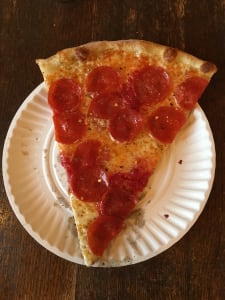 Out of the many pizza places to try in Portland, Otto Pizza is probably the most famous for their out of the box toppings and pie options. If you're in Portland, it's just a given that you're going to go and try the mashed potato pizza with bacon and scallions at least once, right? Though their popular Congress Street location is currently closed due to water damage from a fire, there are plenty of other locations where you can enjoy Otto, like their East Bayside location. Stop in for a slice, or a whole pie, because this is the pizza that gets Portland noticed.
Lazzari: Arts District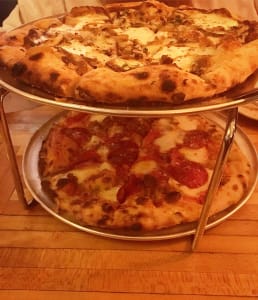 Lazzari is definitely the newcomer on this list, but their wood fired pizzas are becoming an integral part of the pizza scene in Portland. Though they have an excellent selection of wines, as well as many delicious original cocktails, the main star here is the pizza. Obsessive foodies will remember that it seemed like this restaurant would never open. After 2 years of waiting though, Lazzari is here and they are bringing their A game when it comes to pizza in Portland. Stand outs on the menu include their mushroom pizza, piled high with 4 different kinds of local mushrooms, as well as the classic margarita pizza. Let's face it: you can't say you really know the Portland pizza scene until you try Lazzari.
Bonobo: West End
For the West Enders in Portland, it doesn't get easier than walking down the street and grabbing a slice from Bonobo. Not to mention, Bonobo has some of the best pizza specials in town. $7 cheese pizzas on Tuesdays and Wednesdays, as well as half price beer and wine on Mondays. The wood-fired pizza is part of the appeal as well, since it goes down a little too easily. We love their creative pizzas brimming with toppings like goat cheese, veggies, pesto, ricotta and more.
There you have it, these are our favorite spots for pizza in Portland! Think we're way off base? Let us know in the comments below, or on social media! If you need us, we'll be out eating more pizza, because pizza is life.
---