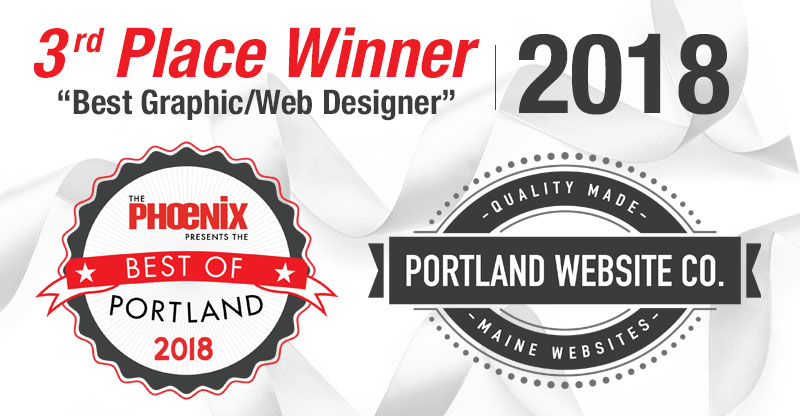 Unless you live under a rock, you're probably aware of the Portland Phoenix's Best Of List, released every spring. This year, Portland Website was voted third for Best Graphic/Web Designer! We are so grateful to everyone who voted for us and happy to be recognized. Read on to learn more about what it means to be considered the best web designer in Portland!
Before we get too far ahead of ourselves, what exactly is this Best Of List and how do you get nominated? The Portland Phoenix Best of List has evolved and changed each year since its inception twenty years ago. Categories have changed gradually, with a large focus on the things that make Portland unique, like our killer food and dining scene, arts, media, and best web design. This year there were 183,755 votes cast for the poll. This list is truly the voice of Portland! There are two steps to getting into the list. The first is getting nominated. After the nomination period (about a month) the top 6 in each category from the Best of List are left to be voted on by the readers of the Portland Phoenix. Out of the six, the top 3 in each category are then declared winners after the voting period is finished. To be nominated at all for the Best of List is a huge honor but to get third, that's a big deal!
At Portland Website, we like to build websites that people want to use. More and more, website design is becoming about the overall user experience, rather than cool trends or widgets that come and go. We focus on sites that are unique, rather than templates. A website is an incredibly important part of any businesses brand, and it could be the first thing that leads or customers are seeing. You only get one first impression, so you'd better wow them with a jaw-dropping website!
Everything we do is custom. Whether you're building a 5-page microsite or a 65-page website, you'll get the same custom approach for your website with Portland Website Co. You can't become the best web designer unless you know what works. Besides just building custom responsive websites, we are a full-service digital marketing agency. A new, responsive website is just the first piece of the puzzle when it comes to your online presence!
We're confident that we can build any business a beautiful, responsive site that their customers and leads will love. Not happy with your current website? Give us a call and let us show what we can do!
---