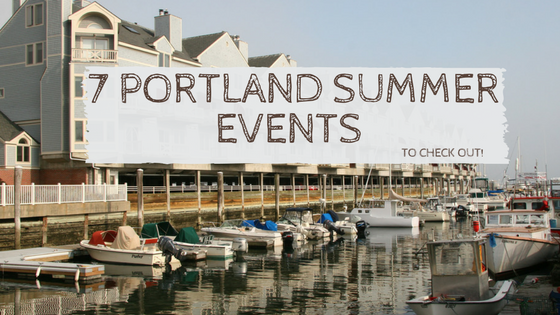 We know, it might seem a little bit crazy to start thinking about summer, but it's right around the corner! Before your summer books up, check out these 7 Portland summer events that we can't wait to attend. Yes, as always there's a little bit of everything here for foodies, beer aficionados, and winos. Check it out!
Street Eats & Beats: May 19, 12 pm-5 pm
This year, the fifth annual Street Eats & Beats food truck festival takes place on Saturday, May 19th. In a city like Portland, food trucks are just as popular as regular brick & mortar restaurants. If you consider yourself a foodie, this is the festival to attend! This year, some of the food trucks include Cousins Maine Lobster, Falafel Mafia, Love Kupcakes, Mami, Mr. Tuna, PB & ME, Tacos Del Seoul, and The Eighty 8 Donut Cafe (formerly known as Urban Sugar Donuts). If the food isn't enough, everyone's favorite 90's cover band Hello Newman will be performing, as well as Stains of a Sunflower! This is definitely one of our favorite Portland summer events to kick off the season right! Unfortunately, tickets have sold out, so we hope you bought yours already!
Portland Wine Week: June 18-24
Portland Wine Week is new to the summer lineup, but we are beyond excited. A week devoted to wine is like if Christmas and your birthday happened all in the same week or something! That being said, Portland Wine Week is of course presented by Wine Wise. If you ever wonder about wine in Portland, Wine Wise, and Erica Archer (the owner of Wine Wise) are the experts when it comes to wine here. The week is already looking jam-packed, with classes on how to taste blind taste, pasta making and wine pairings, wine dinners showcasing wine from all over the world at some of Portland's best restaurants and so much more! It's only April and already the buzz is growing around this amazing event. More importantly: events have already sold out, so make sure to sign up and get your tickets before it completely sells out!
Allagash Street Fair: June 23 1 pm-6 pm
If you love Allagash's beer, then we think you're going to love their fourth annual Street Fair as well! The Allagash Street Fair is like a giant block party, filled with music performances, food, beer, and events! This event WILL sell out, and it's just a matter of when, not if. Ticket sales are capped at 2,200, so make sure you buy your tickets soon! This is a family-friendly event, so feel free to bring your kids, but leave your dogs at home, as they are not permitted.
Old Port Fest: Sunday, June 10 11 am-5 pm
Summer in Portland just doesn't feel right unless you're attending the 45th annual Old Port Fest! Although the format has changed a bit over the years, this year it's just one day from 11 am-5 pm. But hey, that's plenty of time to eat some lobster rolls, poutine, fries and other amazing street food! We also love the local music, and it's easier than ever to catch your favorite band with three different stages to check out this year. Don't forget to take a whirl on the Casco Bay Eye Ferris Wheel, located by DiMillo's on the Water. Best of all? This is one of the Portland summer events that's always free, so bring your friends and family for the best summer day in Portland!
Yarmouth Clam Festival: July 20-22nd
There's a reason southern Maine is known for seafood. And when you're known for seafood, you better have an event or festival surrounding it! That's definitely the case with the Yarmouth Clam Festival. Although this doesn't count as one of the Portland events, it's pretty close and easy to get to, we swear! Even if you don't like seafood, there's honestly something for everybody at the Yarmouth Clam Festival. Hundreds of volunteers from thirty non-profit groups come together and bring this classic Festival to life. From jewelry vendors to art and animal petting zoos, the Yarmouth Clam Festival is a fun way to spend a hot summer day! Oh, and don't tell anyone we said this, but they have the best fried clams too. Shhhh!
Maine Lobster Festival: August 1-5th
Yes, there's a clam festival, but since we live in Maine, there's also a Lobster Festival! Again, not really one of the Portland Events, but it's worth a little drive to Rockland, Maine. There's a lot more than just lobster at this annual festival, and it's all tasty! Imagine going to the fair and eating all of the delicious things you love: fried dough, hot dogs, and classic carnival cuisine and then adding an element of lobster too! That's this festival, and it's mouthwatering. We love the clam chowder, as well as the beautiful waterfront views. Want to attend? On opening day, general admission tickets are $1 for adults and free for kids 6-12. After that, adults pay $8 on Thursday, Friday, and Saturday, with free admission on Sunday!
Summer Session Beer Fest: July 28th
Want to try ALL the local beer you can get your hands on? Make sure to buy your tickets to the Maine Brewers Guild Summer Session! Located at Thompson's Point, the best beer in Maine will be in one convenient place. For those that love out of state craft beer, there will be plenty of guest breweries brought in from across the country as well! With all that beer, we know you're thinking about food, but don't worry, local food trucks will be on hand to keep you satisfied as well. Want to attend? Make sure to buy your tickets here! Beer lovers will agree, this is one of those Portland summer events you need to add to your list!
We all know that this list is just the tip of the iceberg, but these 7 Portland summer events are sure to keep you busy! Did we miss your favorite event? Let us know in the comments or on Facebook, Twitter, and Instagram!
---